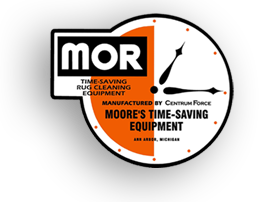 ROLLER RE-CONDITIONING PROGRAM
Age and environment affects hardness of the rubber that line the rollers on your MOR machines. The rubber wringer rollers on your MOR machine need to have a certain level of "give" in them to provide the correct amount of pressure against rugs and provide the right amount of traction. We measure the relative hardness or softness of this material with an instrument called a "durometer."  A reading of  +/- 65-70 is required to deliver the most efficient performance.
Many wringer rollers are presumed to be working fine when they visually  appear fine. However, the harder the rubber, the less efficient they are in getting the water out. Therefore, less water squeezed out means more contaminants and moisture is remaining in the rug before entering the drying room. Symptoms of this condition are observed by rugs feeling stiff the next day and fringes evidencing discoloration. If you have these observations, it may be the consequences for your wringer rollers being in poor condition. Eliminate this concern by checking the durometer of the wringer roller rubber right away. If your rollers are approaching the 12-14 year cycle, it is very possible they need to be exchanged. We have found durometer readings 80-90 in rollers of that age. That is too high to have satisfactory results. To compensate, some operators will increase the pressure that these rollers exert on rugs. Doing this increases the chance of crushing and damaging often delicate fibers.
We have established a special program for plants who operate machines with these rollers, to keep them in top condition.
PROGRAM DETAILS
Exchange your worn rollers for new ones
Exchange your Wringer Rollers with new ones. We currently offer $4000 deduction for each Roller you provide in exchange for new ones. (Some exceptions may apply: If the steel cores and bearing shafts are damage or beyond refurbishing,  cores will have less  value)
On-Location replacement service
We also furnish on-location service by trained workman to replace and install new wringer rollers. New components may also be required and installed at the same time. Bearings, compression cylinders, wash bed belts, belt guides, etc. Call for a detailed quote!