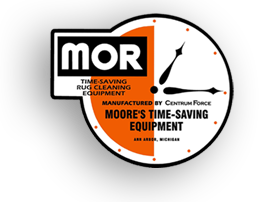 Other-Products
MOR RUG RINSE/WRINGER
CLEANING SOLUTIONS AND MOISTURE REMOVED AND
PREPPED FOR DRYING
Using highly efficient spray jets and precision wringer rollers, The MOR Rinse/Wringer enables the thorough rinsing of floor or tub washed rugs and outputs a rugs with a high percentage of moisture removed and ready for the drying room.
Versions are built in 13′, 16′, and 19′ lengths.
Basic construction consists of a rug loading area, or platform deck, the start of a series of gripping belts conveying rugs through the machine. The next phase of passage carries the rug under the rinse spray manifold. Finally, the rug passes through the compression wringer that squeezes the water out of the rug leaving it damp. Rubber tires on rear rollers permits the rugs to be rolled up to be carried either to a horizontal centrifuge for further water removal or taken directly to a rug hanging system.