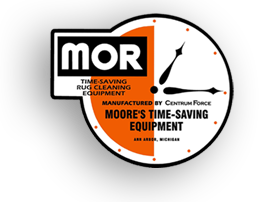 Other-Products
MOR RUG ROLLER/WRAPPER
CLEAN, WRAPPED AND READY FOR DELIVERY!
The MOORE Rug Roller/Wrapper is an innovative machine that enables you to complete the cleaning process with an efficiently rolled and paper-wrapped rug, ready for delivery.
As rugs are conveyed flat mechanically to the device, the machine can be engaged whereby rollers automatically roll the rug tight. Paper may be applied or inserted while the device is engaged to wrap the rolled rug for a finished appearance.