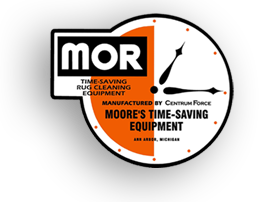 Roll-A-Jet AUTOMATIC RUG WASHER
THE ULTIMATE IN HIGH THROUGHPUT AUTOMATIC RUG CLEANING
MOR'S legendary automatic rug washing machine, the Roll-A-Jet, is re-introduced by Centrum Force with all the same functionality as its historically featured, but with more efficiency than ever before. This machine enables rugs up to 19 feet wide of any thickness–or multiple rugs simultaneously–to be thoroughly washed, rinsed and wrung out in a single operation. Rugs are fed into the machine on one side and exit ready for dry hanging on the other.
The Roll-A-Jet is a machine known and embraced the world over. For most of the 20th century, this machine was the only one available able to effectively clean over 200 average size rugs in a single day.
Hundreds of original Roll-A-Jets remain in service today, and continue to earn their operators unprecedented income with low maintenance. The Roll-A-Jet is a true workhorse!
Centrum Force's re-introduced Roll-A-Jet retains all of the features that made this machine a success, while adding twenty first century technology that conserves water and electricity.
Available in 13' 16' and 19' widths
Moving brushes and water jets
Water conservation sensors and valves
Touch screen electrical controls
Modern motors and gear boxes
Production ranges from 20-80 rugs per hour
Variable speed controls
Automatic soap feed
Paddle wheel delivery
Air pressure cylinder roll pressure